UTCIS-V™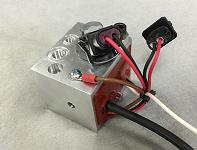 The UTCIS-V™ is our intermediate Warm-Up Regulator Upgrade. In addition to the user-programmable Warm-Up Enrichment Cycle, the UTCIS-V™ permits the setting of the relationship between Manifold Air Pressure and Control Pressure at air pressure readings below 1 bar (ie vacuum). The UTCIS-V™ is compatible with all applications where there is a vacuum connection on the OEM Warm-Up Regulator. This product is perfect for normally aspirated performance engines, such as your Porsche 911. The UTCIS-V™, like all UTCIS™ products is compatible with the UTCIS Engine Management Software™ available for download from the UnwiredTools™ web site support section.
Note: Starting with the G7 revision of our UTCIS™ products (Spring 2016), we no longer ship the units with a USB connector. To program a unit, you will require a UTCIS™ Programming Adapter.

UnwiredTools ships your unit pre-configured for your specific application and you generally do not need to perform any programming steps. In the event that you desire to custom-tune your unit, you will require the programming adapter. For more information, please contact support@unwiredtools.com.
Applications

All K-Jetronic equipped engines which are normally aspirated. If your OEM Warm-Up Regulator has a vacuum connection and you desire the benefits of full throttle enrichment, this is the correct UTCIS™ product for your engine. If you are looking for more advanced Engine Management features, consider the UTCIS-PT™. A list of common K-Jetronic applications is found here

---

UnwiredTools UTCIS-V

Price: $549.00 USD

Supporting Documentation & Updates
UTCIS™ Engine Management Software Manual
UTCIS-V™ & UTCIS-PT™ Installation Manual
UTCIS™ Application & Tuning Guide
Register & Download
UTCIS™ Engine Management Software